New at Greenway Orlando Hyundai the 2021 Kona
Orlando Hyundai Kona
As a sporty and energetic mid-size SUV, the Hyundai
Kona
is highly rated among car enthusiasts because of its peppy engine and upscale cabin. The vehicle is considered to be a great commuter car when you want something fuel-efficient and easy to drive. If you want to learn more about what the new Kona model offers, you can discover the features available before visiting a Hyundai Orlando dealership in Orlando.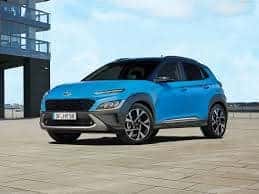 Highlights
This new 2021 Hyundai model boasts plenty of impressive features to ensure you get more use out of the car and feel more accommodated while en route to your destination. The sleek and upscale cabin makes it feel like you're riding in a luxury car with the soft-touch materials and classy accents. The turbocharged engine is poised and offers a few joy rides. The handling and ride are also impressive to ensure you feel in control of the Kona SUV. The infotainment system is easier to use than other technology in similar models. You'll also have added comfort with the spacious and comfortable seats up front, which are supportive and can help improve your posture on long drives. There's even extra space in each row to encourage you to stretch out for tall passengers who need more room. If you want to enhance the quality of the cabin, you can opt for a sunroof for a view of the sky overhead. HD radio, navigation, and an eight-speaker Infinity sound system provided added accommodation when you're getting around. Wireless device charging is one of the most popular features drivers purchase to ensure they can keep their electronics powered until they reach their destination. All the controls on the dashboard are easy for the driver to see and reach without looking cluttered. The exterior styling is also one of the main highlights of this car, which shows off a sporty design that is sleek and futuristic. The slim headlamps and taillamps make it look as if the car is in motion even when it's at a complete stop. The oversized grille on the front also causes the vehicle to look larger and more intimidating to other motorists.
New Features
One of the newest changes to the Hyundai Kona model is the Night Edition trim that joins the line-up. This car is edgy and stands out with its blacked-out accents and gloss black interior when you want something that is unique. New features are also abundant with Apple CarPlay and Android Auto connectivity with your smartphone. Keyless entry makes it easy to get into the car when your hands are full, or you're in a rush. Bluetooth is also a feature you can use each day in the cabin to have access to the various apps on your smartphone device.
Safety Features
Hyundai made it a point to include some of the most in-demand safety features in the Kona to ensure drivers feel safer and that any mistakes made are quickly corrected. Lane keep assist and lane departure warning will warn you if you start drifting into another lane to avoid hitting other cars and drive safer. High-quality side-impact airbags will also offer added protection if a collision occurs to reduce and minimize injuries. Standard safety features to utilize include a rearview camera and forward collision warning. Perhaps one of the most innovative safety features that will keep you safer while behind the wheel is the driver drowsiness monitoring system, which will alert you if you start to fall asleep while operating the vehicle. Anyone seeking added features can select pedestrian detection, rear parking sensors, blind spot monitoring, a head-up display, adaptive cruise control, and blind spot monitoring for increased visibility.
If you want to learn more about this new Hyundai model, contact us at our Hyundai Orlando to schedule a test drive of the vehicle in Orlando. You can also explore our large inventory of vehicles at our dealership while learning about our financing options.