All About the 2021 Hyundai Elantra
Named the North American Car of the Year, the 2021 Hyundai Elantra stands out in the auto industry for its next-level technology and efficient performance as a compact sedan that looks more like an edgy sports car. With a sleeker, sportier exterior, the car turns heads and can allow you to feel confident while spending time in the driver seat and showing off your set of wheels. There are a few main features and details to review with the 2021 Elantra for drivers in Orlando Florida who are looking for a fun and reliable car to drive for committing or joy rides.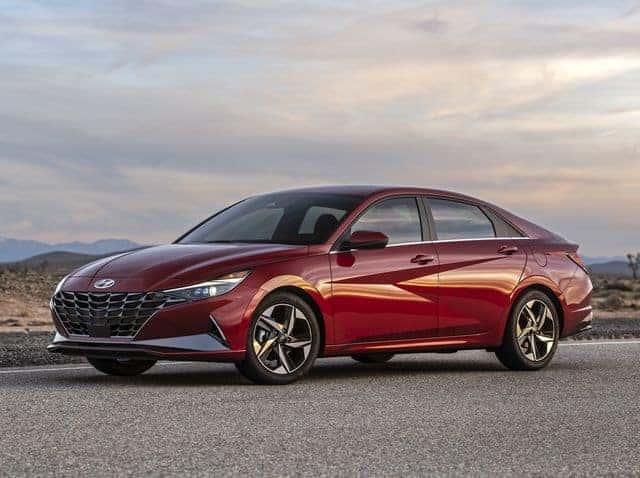 Highlights
With a race-inspired interior, the new 2021 Hyundai Elantra comes with a leather-wrapped steering wheel and an exclusive analog gauge cluster. Drivers can enjoy having a view overhead with the sleek sunroof while sitting in leather-trimmed sport seats while using the alloy pedals. Heated seats in the front offer added comfort during the colder months of the year and is a standard feature that is usually only available as an upgrade in similar sedans in the auto industry. The Hyundai Digital Key is one of the top selling points of the vehicle and allows drivers to lock or unlock their vehicle with the use of their smartphone. The app even has memory settings to adjust your mirrors and seat to the exact spots and positions you prefer every time you get in the car, according to hyundaiusa.com. One of the best parts of sitting up front is having access to the 10.25-inch touchscreen, which is one of the largest screens you'll find in a sedan in the auto industry. The panel has stunning and sharp graphics where you can access your settings and entertainment options. Wireless device charging is another convenient feature to utilize to keep your phone and tablet fully charged while away from home. Smartphone connectivity is offered in the cabin with both Apple CarPlay and Android Auto available. Those who want an excellent listening experience in the cabin can get plenty of use out of the Bose Premium Audio, which delivers balanced and crisp sound. BlueLink Connected Car Service also allows you to start your car remotely. The vehicle is powered by a 2.0-liter Atkinson-cycle l-4 engine, which generates 147 horsepower and 132 lb-ft of torque. It has even more fuel efficiency than previous models and doesn't lag while sprinting on steep inclines. Drivers can also select a hybrid powertrain to save more on fuel while getting around. Even the brake pedal tuning is consistent and reliable. You'll also find multiple USB ports, a four-speaker stereo, and plenty of legroom in the back to ensure tall adults have enough space to stretch out.
Safety Features
One of the most innovative safety features you'll find in the 2021 Elantra is the high beam assist lights, which automatically turn on when the vehicle detects dim and dark settings to improve your visibility on the road ahead. Not only do the lights work automatically for added convenience, but they also detect cars that are approaching the vehicle to dim and make it safe to drive near other cars. Lane keeping assist is one of the most advanced features to ensure you're warned through audio and visual alerts when your car starts to drift on the highway. Line following assist is a similar feature that utilizes a front-assist camera to ensure the vehicle always stays centered in the lane. Blind spot collision avoidance assistance, rear cross traffic avoidance assist, and highway driving assist are available features to reduce the risk of a collision and offer more peace of mind while operating the vehicle to ensure you don't veer too close to other cars or objects. The rear suspension system on this 2021 Hyundai model provides a smooth ride on rocky terrain and makes it fun to drive with the three driving modes available for a dynamic and comfortable driving experience. Pedestrian detection and active lane control also improve driver safety and compensate for minor mistakes made while spending time behind the wheel.
Additional safety features include:
Parking collision assist
Driver attention warning
Smart cruise control
Contact our Orlando Hyundai dealership today to learn more about this 2021 Hyundai model and discover all it has to offer to drivers in Orlando Florida. At Orlando Hyundai, our goal is to assist you in test driving the vehicle and also explore our large inventory of cars to help you find the perfect model for your needs.